Your Victoria BC Bed and Breakfast
Fisher House Victoria BC Bed and Breakfast, as well as its two neighboring homes, were designed by architect, Charles Elwood Watkins, of Cornwall England. Several structures in Victoria such as the Victoria Library on Yates, local schools and the James Bay Inn, the third oldest hotel in Victoria, BC Canada can also make this claim. Most of the original features of the house remain. The old growth fir floors have been restored, wood paneling and beams as well as plaster walls and ceilings can also be seen. Lovely stained glass windows are original, and the lovely craftsmanship can be seen in the detailing of the hand rail and fire place, and in each guest room. The front steps and porch have  been completely rebuilt capturing this same craftsmanship and windows replaced with original craftsman ways.
Your Victoria B.C. Getaway
Get away from it all and relax in the beautiful city of Victoria, B.C. We invite you to sit back and enjoy the hospitality of our inn and the city of Victoria.
Daily Breakfast – Locally grown and organic whenever possible, our breakfast includes a wide variety of dishes ranging from sweet to savoury.
Indoor Common Areas – Relax in the parlour or dining room with your favorite book and a complimentary cup of tea or coffee.
Outside Areas – Balconies and a wonderful backyard oasis awaits.
Within Walking Distance of downtown Victoria!
Additional Amenities: Free Parking, Wifi, luggage storage and laundry facilities.
Inn Photo Gallery: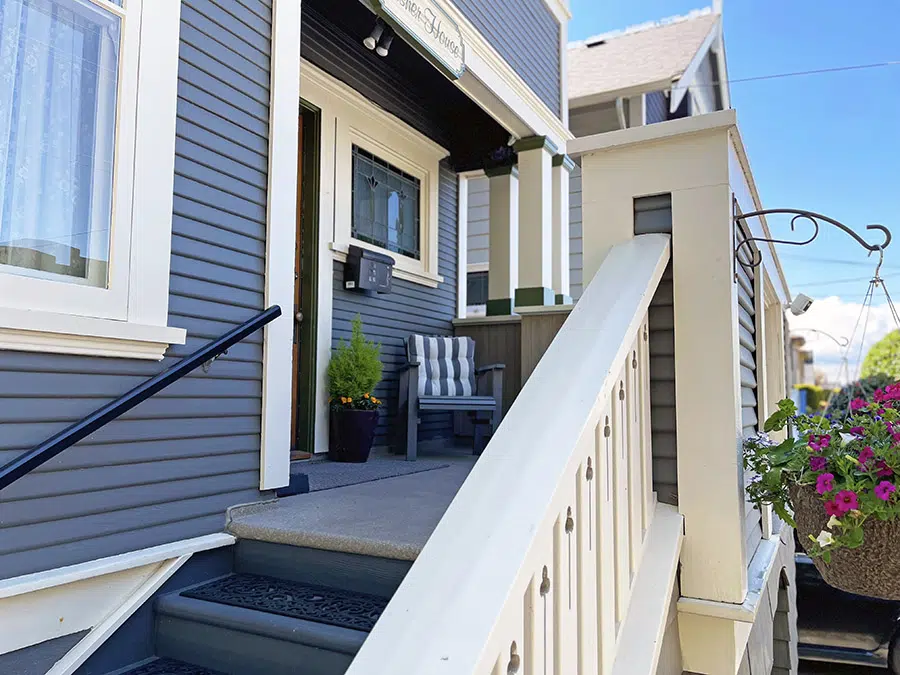 Meet your Innkeepers
Jen and Cal began hosting guests at Fisher House in June 2009 after Cal was posted to Canadian Forces Base Esquimalt, and Jen retired from education administration. Combining three of their favorite things: guests, food and playing outside, the bed and breakfast in Victoria brings them great joy, and it shows.
Jen has discovered golfing, and so most of her free-time revolves around being at the course. Cal is an avid cyclist, so he's your guy on matters of trails and excursions.
After growing up in the shoe business, enjoying a wonderful career in education, and in anticipation of retirement, in 2011 Jen and Cal decided to open two SAS Comfort Shoes stores in the Vancouver area: 5900 Kingsway in Burnaby, and 10340 152nd Street in Surrey. If you're heading to the area, let us know, we'd love to show you the most comfortable shoes in Canada! www.MySASshoes.com.